Referral Reward Scheme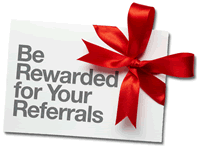 Most of our members come to us through a recommendation. If you are a member of RollaDome All Skate we will reward you if you successfully recommend a friend or relative to our Clubs.
So if you know anyone who is interested in getting their children and families active, whilst learning new skills, why not ask them if you can send us their details? 
Just email admin@rolladome.org.uk with their name, address and telephone number and mention 'Referral Reward', or ring us: 020 828 1171.
Alternatively, the person you are referring can get in touch with us themselves and mention your name and Club you attend.
To qualify for the scheme the prospective applicant must quote the referring member's name during the initial enquiry stage on the telephone or in the email to us. This will be cross referenced to confirm connection
Each 'Referral Reward's based on one household (a single applicant/ joint applicant living in the same household making one application)
A £5.00 Credit will be added to your members account, and used to reduce your termly fees, when the referred person, joins for a child/themselves and attends a Full 6-week term.
Existing members can make as many introductions as they wish, but new membership will only begin at the Start of a Term.
Referred members, must not have attended RollaDome clubs within the past 24 months.
No back dated referral rewards will be considered, prior to the introduction of the scheme, being 1st June 2017
NB. To be a Member you must be presently attending one of our Clubs, weekly.  Previous members are not able to participate in this Reward Scheme.
Credits can only be used against your termly fees, and therefore Non-Transferable.